FACES IN BRIDGEPORT
is an ongoing project.
A sample is presented here.
Slide shows currently available
at the Redwood Motel by request.
Previous Image
Thumbnails
Next image
What a face!
This fine young Marine
brought his well heeled mule string into town
for the parade down Main Street
on the morning of July 4, 2004.
Thousands line the three blocks
that are Main Street Bridgeport CA USA
for the 10am start.
We gather at dusk for
FIREWORKS
over the Lake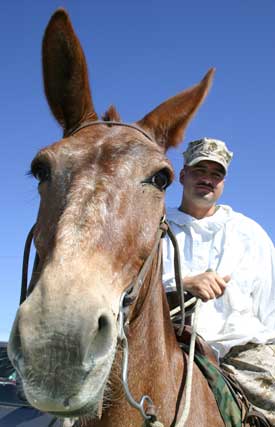 This site is copyright 2010 REDWOOD MOTEL Bridgeport, CA.
All Content, Maps, Graphics, Illustrations, Text, Taglines
and Photos, unless otherwise noted,
are copyrighted property of MaryEllenSzper and flyingfrog.com.
"The Great American West at it's Best"
copyright 2010 flyingfrog.com
ANY and ALL Unauthorized reproduction or use of any kinds
is prohibited and protected by copyright laws.
Last update Sept 01, 2010