FACES IN BRIDGEPORT
is an ongoing project.
A sample is presented here.
Slide shows currently available
at the Redwood Motel by request.
Previous Image
Thumbnails
Next image
Growing up on Bridgeport,
Reannin has a distinct advantage.
She has the confidence, grace and charm
imparted by the close knit, multi-generation
Hunewill Family
.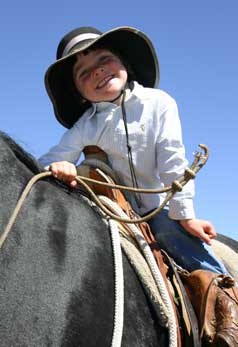 Thruout the rodeo season ranch families
come from miles and miles
to compete skills at Team Branding
and other rodeo events at the
Bridgeport Rodeo Grounds.
This site is copyright 2010 REDWOOD MOTEL Bridgeport, CA.
All Content, Maps, Graphics, Illustrations, Text, Taglines
and Photos, unless otherwise noted,
are copyrighted property of MaryEllenSzper and flyingfrog.com.
"The Great American West at it's Best"
copyright 2010 flyingfrog.com
ANY and ALL Unauthorized reproduction or use of any kinds
is prohibited and protected by copyright laws.
Last update Sept 01, 2010