FACES IN BRIDGEPORT
is an ongoing project.
A sample is presented here.
Slide shows currently available
at the Redwood Motel by request.
Previous Image
Thumbnails
Next image
Graham and Grampa
riding their antique vehicle
the 4th of July padrade down
Main Street, Bridgeport CA, USA.
Bridgeport is THE place to be for old-fashioned, small town USA Independance Day celebration. Rodeo, parade, games, bbq's, horse shoes, crafts fair, turkey shoot, and so much more, all topped off with fireworks over the lake. Reserve early! Visitors are encouraged to join in the parade so come prepared with your red, white and blue finest!.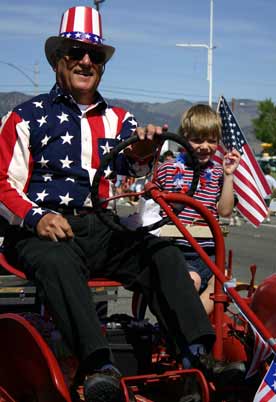 This site is copyright 2010 REDWOOD MOTEL Bridgeport, CA.
All Content, Maps, Graphics, Illustrations, Text, Taglines
and Photos, unless otherwise noted,
are copyrighted property of MaryEllenSzper and flyingfrog.com.
"The Great American West at it's Best"
copyright 2010 flyingfrog.com
ANY and ALL Unauthorized reproduction or use of any kinds
is prohibited and protected by copyright laws.
Last update Sept 01, 2010